e-satisfaction.com at ShopX Conference by Boussias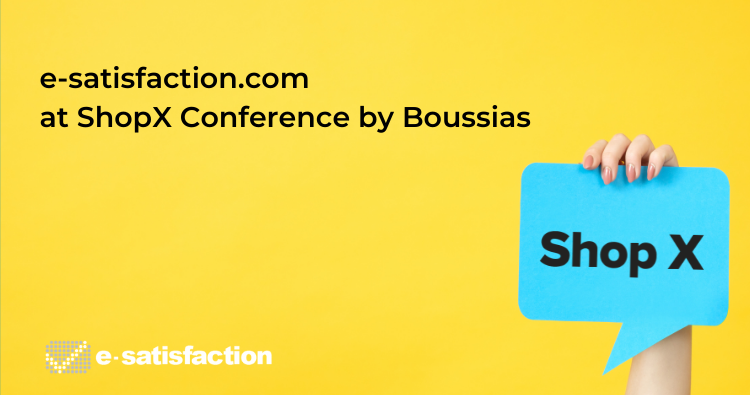 Customer Centricity & Customer Engagement are part of a company's culture, not just a tactic or a marketing approach. They define the way you are doing business or as HubSpot's Paul Greenberg says: "Customer engagement is the ongoing interactions between company and customer, offered by the company, chosen by the customer."
On Wednesday 22/09/21, e-satisfaction.com was part of the online conference ShopX by BOUSSIAS, focusing on 'Maximizing Sales for Brands and Retailers'; A live, online & interactive event that brought the notion of Customer Centricity and CX even closer to the Greek Market and the brands, by sharing innovative tech-tools & best practices around retail, shopper experience & customer engagement.
e-satisfaction.com, as the dominant feedback solution in the Greek retail market, was part of the knowledge & insights sharing via a Virtual Booth, a Fireside Chat with special guests from abroad, a Panel Discussion with experts from the market and a real Case Study of a Greek retailer.
How can you gather Feedback and enhance your Customers' Experience? What did the Experts say?
At our virtual booth, the audience had the chance to watch our team talk about:
CX Trends and CC Valuation

e-satisfaction CX Fundamentals and Market Insights
If you missed this event, you can download our free e-book about Customer Experience Fundamentals.
The Fireside Chat, with our CEO, Evangelos Kotsonis, as a coordinator, focused on Retail & Customer Centricity (see the participants of the Chat, here).
Key takeaways:
Seamless experience needs an ecosystem-based way of working
Frontline employees are still crucial for a good experience. Technology should be making their work easier and more impactful
Trends should be taken seriously and be transformed into strategy, not just communication
Chinese eCommerce capitalized the absence of good retail experience and now 50% of retail sales happen online
The Panel, with experts from the Greek Market, discussed Shopper & Retail Data, Customer Centricity and the value of Consumer Feedback, to help brands & retailers grow their Market Share and enhance the Brand Experience for their consumers (see the participants of the Panel, here).
The Panel concluded that brick-and-mortar stores and people in the frontline, are still at the center of brands' attention when it comes to Data Capturing.
During this panel, we also asked the audience their opinion about data capturing and here are the answers:
44% said that Store Managers are their source of truth, when it comes to store feedback & insights

47% said that Consumer Comments is the most worthy source of information
Case Study: Public & Media Markt – When building customer centric culture in retail, begin with the frontline
During ShopX, we showcased how e-satisfaction.com helped PMM shape a Customer Centric culture by collecting actionable insights from our platform. By capturing everyday CX data and translating them into customer facing actions, PMM revolutionised the way they engage with their customers. How? By focusing on the frontline and measuring NPS at store level on an ongoing basis to get feedback from consumers about their experience across all touchpoints.
Do you want to know how retailers and brands learn what their customers want? Book a free demo with us here, to learn more about e-satisfaction.com and help you by asking the right questions and listening to the answers.