Win Customer Trust!
with the new Customer Experience Badge of e-Satisfaction.com
While working with more than 140 e-businesses from multiple verticals, like retail, food and insurance, there were a lot of times that we have been asked to provide them a tool to demonstrate how happy their customers are and advertise that they do keep their promise for outstanding service. This need got us excited and we are happy to announce that the Customer Experience Badge of e-satisfaction.com, which is available for FREE to our prime customers, is here to help them create strong bonds with their clients who they may never meet in person.
What is the Customer Experience Badge of e-satisfaction.com?
A discreet badge that displays satisfaction scores and reviews, real customers and can be placed anywhere in the website, helping potential customers overcome their trust barriers before they make their final decision.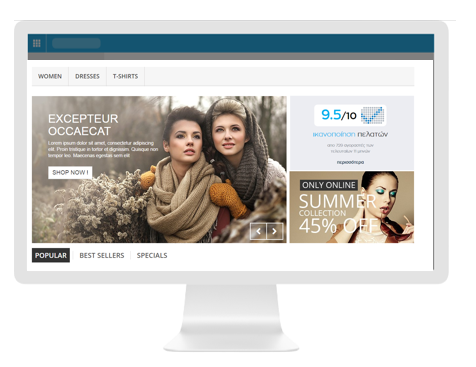 With the Customer Experience Badge of e-satisfaction.com, you will be able to advertise how good your customers say you are , an information that you never had the chance to show before!
What information are displayed in e-satisfaction.com Badge?
When we were designing the Customer Experience Badge of e-satisfaction.com we were trying to find a way to put feedback from more than 1,8 million customers in a small box and provide it as a beautifully-wrapped, easy-to-use gift to our customers. After long discussions, we reached to a beautiful lightbox that is displayed every time a user clicks on the badge , in which the following information are displayed:
the overall satisfaction score of an e-Business,

how many of the customers will buy again from this e-Business and

the three attributes that the customers

of this e-Business say are the strongest attributes of this particular e-Business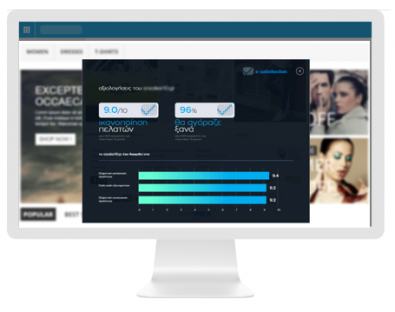 This dynamic information is taken from the feedback collected in the final stage of the consumer journey, by real customers of the e-Business, when they have a complete view of the service provided by each e-Business, so it is credible and authentic!
Why use a Badge in your e-Business's website?
Customer Experience Badge of e-satisfaction.com is an effective weapon to increase the trust of your customers and gain ground in the battle of excellent customer experience.
For more information and details on the interactive e-satisfaction.com badge click here
What is e-satisfaction?
e-satisfaction is the #1 Humanized Marketing Platform for e-Business that combines customer feedback with actual automated marketing mechanisms that aim to recover or retain your customers. e-satisfaction is used by hundreds of e-businesses, helping them to go one step closer to customer centricity