How to Increase Revenue From your Loyal Customers
 

Leverage with Refer a Friend Campaign
The Maison Marasil – Fragos S.A. company, which operates in the children's clothing industry, in collaboration with e-satisfaction, created a campaign with the aim of rewarding satisfied customers and also attracting new customers in maisonmarasil.com (Refer a Friend campaign). The campaign yielded pleasant and encouraging, for other e-shops as well, results.
Objective
The Refer a Friend campaign has the objective of rewarding the satisfied customers of Maison Marasil and especially the ones that would recommend the e-shop to their friends and colleagues (the so-called promoters). E-satisfaction targets this segment of loyal customers through Net Promoter Score metric (known as NPS in international references). A 5% discount coupon acted as a motive for their next purchase and also resulted as a reward for the customer.
Another objective of this campaign was, to create a new path that will attract easily and quickly new customers to the e-shop, by providing them with a 5% discount coupon for their first purchase.
Automations

This campaign is displayed only to the customers of Maison Marasil that are willing to promote the e-shop to a friend or colleague. Namely, these clients had rated with 9 or 10 (in a scale out of 10) the following question "How likely are you to recommend our e-shop to your friends or colleagues".
After the completion of their order, the customer-promoter can fill in the e-mail of a friend in order to receive automatically two different newsletters with unique discount coupons of 5% discount for their next purchase.
Results
The Refer a Friend campaign yielded remarkable results and created new paths for both Maison Marasil and e-satisfaction, as resulted in just 50 days of function in bringing 118 new orders, by
using e-satisfaction's free marketing mechanism!
In more detail, from the 1.020 customers who viewed the campaign, 359 clicked on it (Conversion Rate 35%). Furthermore, the 118 new orders resulted in the following:
Increased average number of items per order

3.1% increase in turnover was achieved!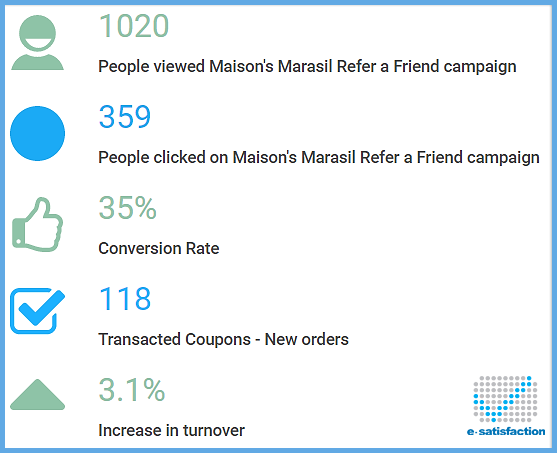 What is e-satisfaction?
e-satisfaction is the #1 Humanized Marketing Platform for e-Business that combines customer feedback with actual automated marketing mechanisms that aim to recover or retain your customers. e-satisfaction is used by hundreds of e-businesses, helping them to go one step closer to customer centricity.