itrend.gr uses customer feedback to further optimize their website!
itrend.gr was created to offer "Style for mobile". Their aim is to give to your favorite smartphone style, character and color with modern accessories in very good quality and at affordable prices.
Within a wide range of stores and e-shops in the industry of smartphone accessories, itrend.gr aims to make the difference.
How?
By providing customers with a variety of products and a well designed and structured e-shop with certified electronics and accessories in affordable prices for everyone.
Objective
For itrend.gr, customer experience plays an important role in their culture and in their way of doing business! The customer service team never lets customer complaints unresolved and they are always trying to find an immediate solution to any problem that might occur.
With e-satisfaction.com and after collecting customer feedback for 8 months, itrend.gr identified that customers were experiencing some malfunctions in product categories section while browsing from desktop as well as from their mobile devices. itrend.gr also received several customer comments regarding products that were out of stock, courier service provider and the tracking of their order.
Therefore, itrend's objective was to optimize their website according to customers feedback and as a result, to create a better customer experience and increase customer's level of happiness!
How itrend.gr used customer feedback and what changes they made?
itrend.gr monitored and recorded customer's feedback and comments in specific metrics, such as general satisfaction, easiness of use, availability of products, feeling secure to buy etc. According to the feedback in these metrics they designed and proceeded with the following optimizations:
While consumers were navigating, their feedback and comments indicated that they faced some difficulties in finding a specific product. For that reason, itrend.gr has created a new structure in their website, making possible and easier to combine search filters. In general, search filters were re-designed to be simple and adaptable to any device (desktop, mobile, tablet etc.) with the aim of facilitating navigation throughout their website.
They made the tracking process easier by notifying customers via SMS but also, by giving them the opportunity to monitor their order online.
They inserted bigger product photos and they used more photos per product, to improve rates on the product presentation metric.
Low ratings were observed on product availability. When a product was temporarily out of stock, it continued to appear on their website. Now, the out of stock label appears in these specific products and therefore, customers are informed whether a product is in stock or not and whether they can proceed with their purchase.
What changed after that?
After the completion of the above changes, it was observed that consumers were happier than before, and this was reflected in their feedback and comments!
As you may see in the following graphs there was a change in Customer's Satisfaction score and in other key metrics, such as site usability, product availability, product variety and product presentation.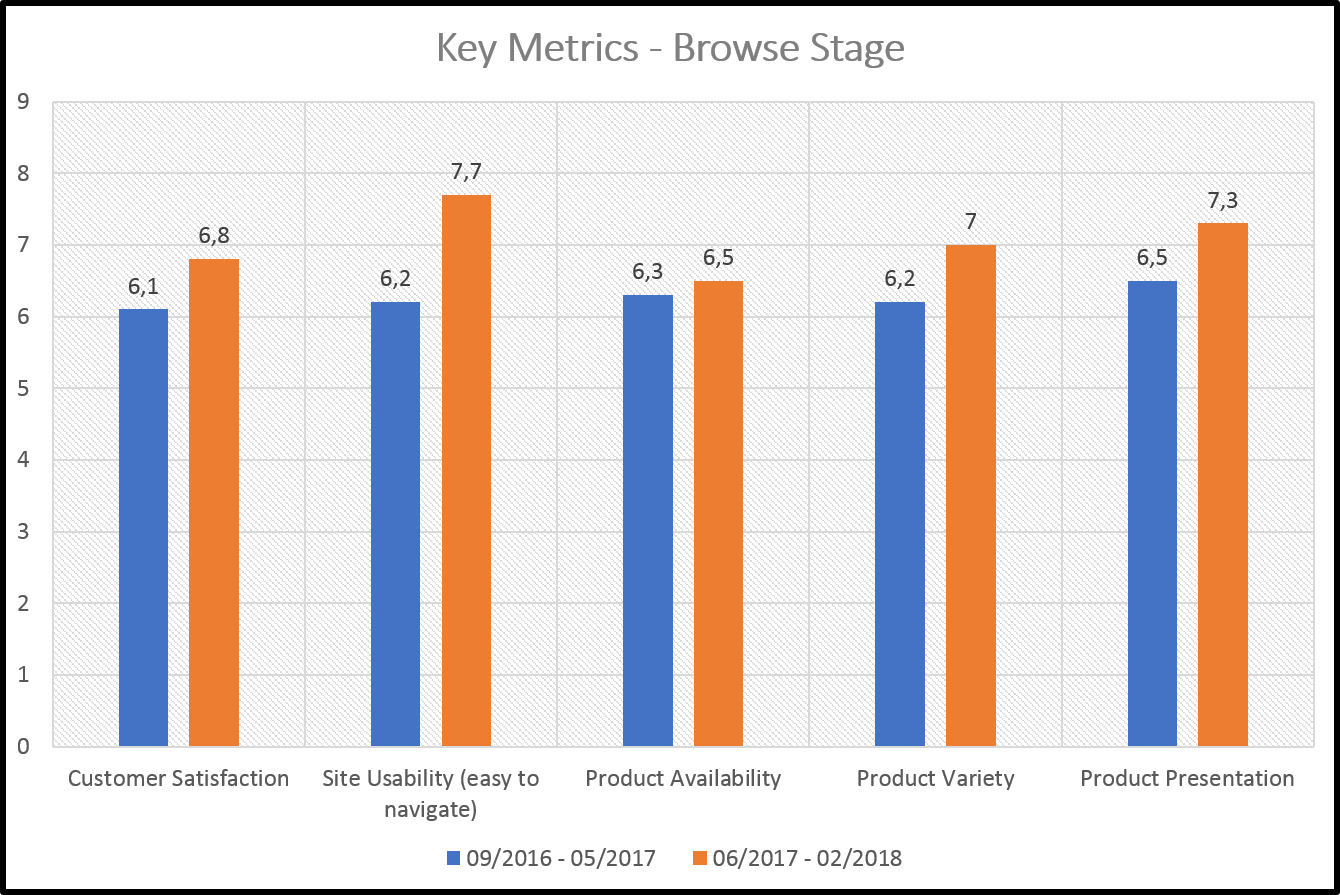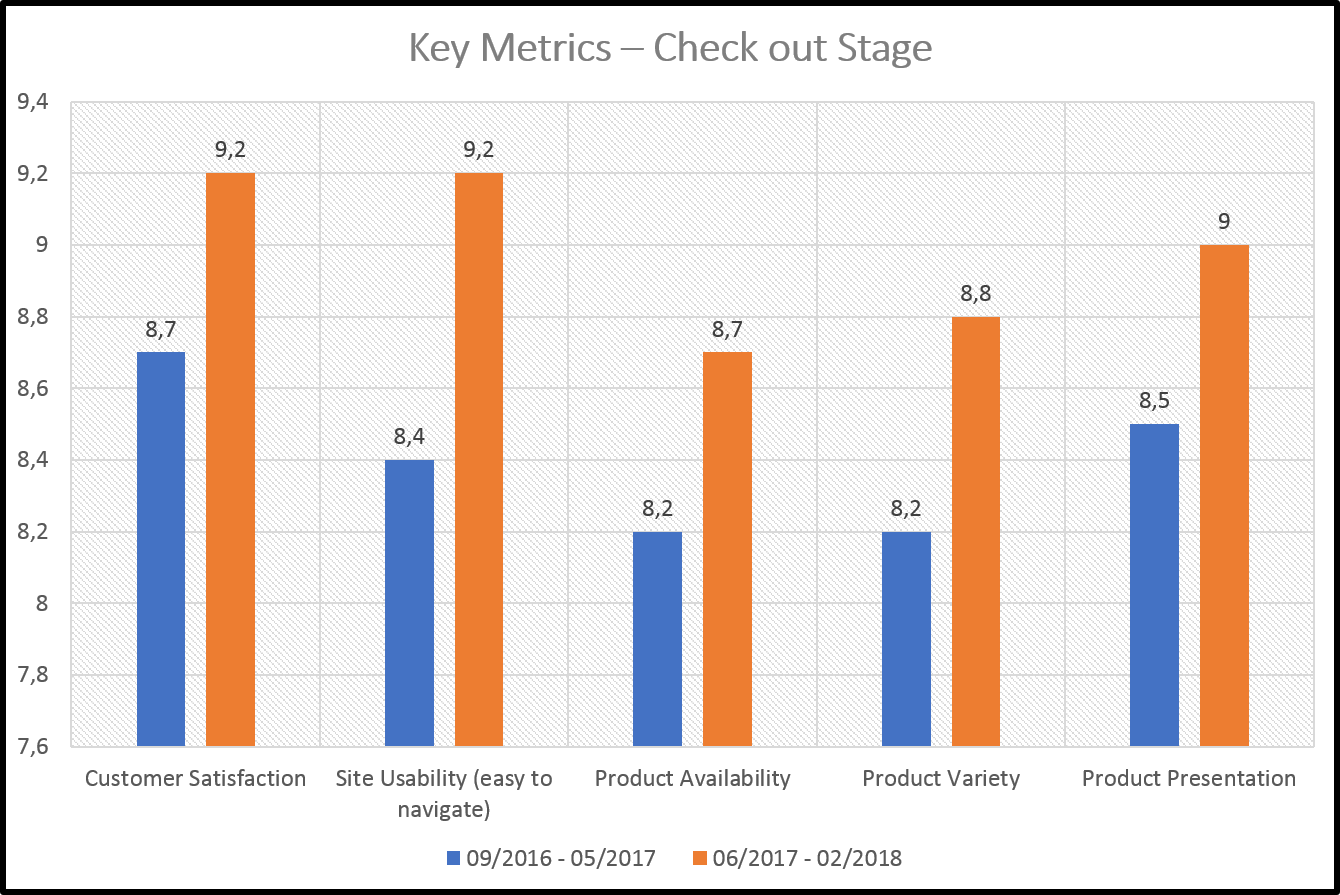 Note: The blue column indicates the period when itrend.gr was collecting customer's feedback to explicitly identify which changes should be made and which elements are of great importance to customers. On the other hand, the orange column indicates the period when changes had already been made and the team of itrend.gr was monitoring customers' feedback to identify whether these changes had an impact on their happiness.
Moreover, a positive change in the percentage of the customers who are willing to recommend itrend.gr to family, friends or colleagues was present. You may see this change, in the following diagram.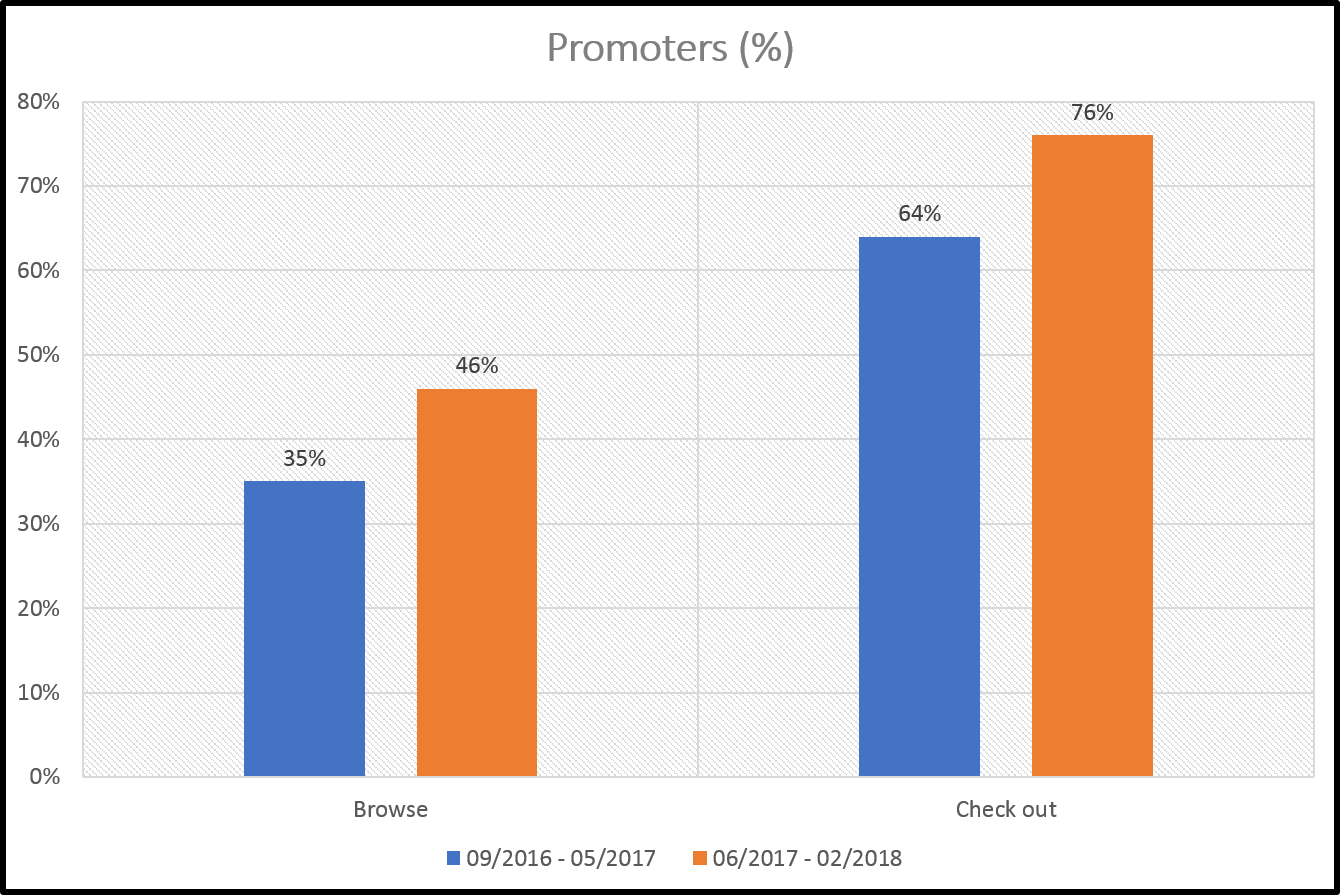 Well done itrend.gr for this amazing work and thank you for helping us make e-Business Customer Centric!