How ebnb.gr increased their positive reviews by 79%!
Ebnb.gr is an online store, selling mobile phone accessories and spare parts to consumers, since 2012. Their goal is to provide customers with a wide range of high quality accessories at the best price in the market. At the same time, ebnb's main priority is to provide customers an outstanding customer experience throughout their entire journey.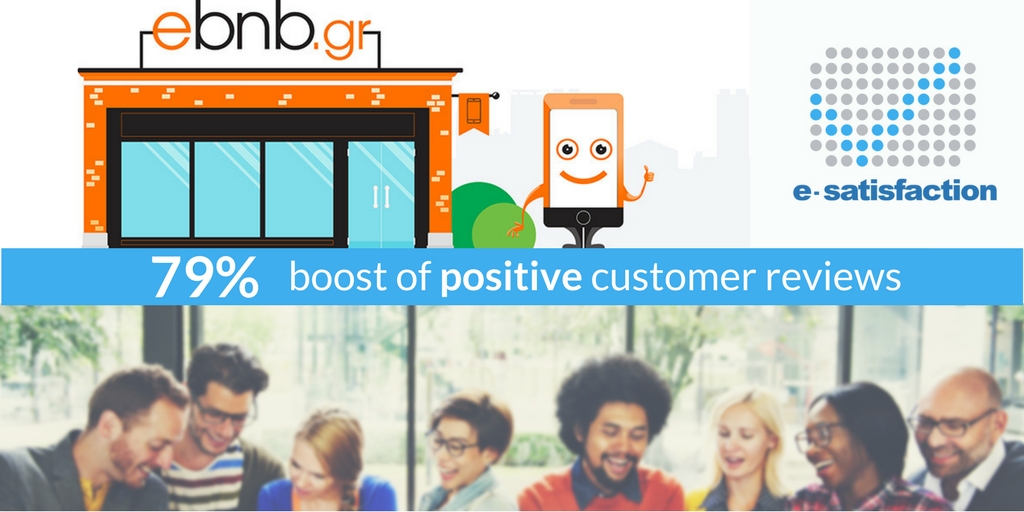 Challenges and Objectives
Competition is really strong in the vertical of mobile phone accessories and spare parts. Therefore, ebnb wanted to proactively act and create a strong competitive advantage. Their main objective is to increase reviews in their profile on Skroutz.gr, a really popular price comparison engine in  Greece where a review section can be found for each store, hosting comments from customers that had an experience from this store. As price comparison is positioned close to the end of the customer journey, providing more reviews and customer comments at the point of the journey where customers compare prices, thus deciding where to buy from, does have a significantly positive effect to conversion rate. This is also apparent to skroutz.gr too, as the five level star rating is listed alongside with the price of every product.
Solution
To help them increase reviews and customer comments, ebnb.gr exploited the power of Humanized Marketing and e-satisfaction.com. As the number of customers that had positive experience when buying from ebnb.gr is increasing day by day,  ebnb.gr was looking for a easy way to find who are the customers that would promote its brand and activate them on a frequent basis, motivating them to spread the word of their positive experience.
This is where e-satisfaction came in ebnb.gr has been using e-satisfaction for almost 2 years, proving its commitment  to always doing its best to provide a better customer service. In this case, the team of ebnb.gr created a mailing list of satisfied customers and promoters that is constantly updating and then drafted a process through which every 2 weeks these customers were asked to leave a review on Skroutz.gr for ebnb.gr. 
Results
The call to review campaigns send by ebnb.gr were welcomed by their customers and marked high engagement rates. An example is the mail campaign of May 2nd 2017 that was sent to 39 customers, and had 56.4% open rate and 20.5% click rate!
This type of activation mail campaigns started October 2016 and until today the following results have been achieved:
79% increase on positive reviews (total 199 positive reviews)
A

significant number of customer comments 

with more than 90% being positive comments, considering shipping time, good prices and the large product mix
By closely taking care of all the small details that make customers happy, ebnb.gr creates a positive experience that customers are willing to share without having to motivate them with a discount or an offer. The impressive engagement of ebnb.gr's customers proves that. Our happy customers are there, waiting for us to meet them, know them and work with them to create a customer centric e-business for them!