4 must-know moments of truth that will close the loyalty loop
There is a starting point in the process of improving the customer experience of customers and it is called "moments of truth". In Forbes, Carlzon defined the Moment of Truth as every point in time a customer interacts with any aspect of the company and therefore, an impression is formed, which can be mapped in the entire lifecycle of a consumer, from the moment of acquisition to eternity, like it is displayed by Gartner in the following image.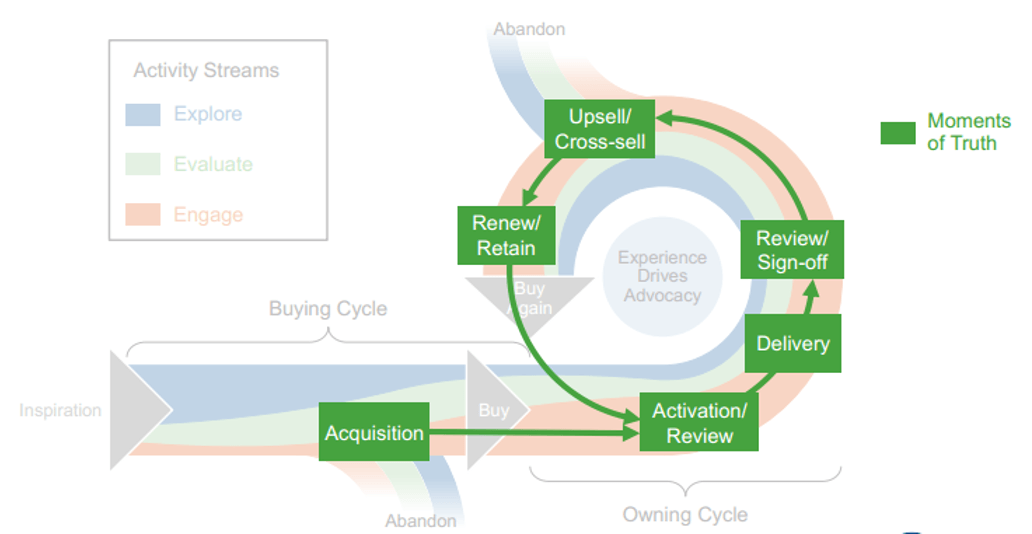 Examples of such moments of truth between a brand or a store and a consumer are the following:
The consumer

buys a product

in a store, known as

ZMOT (Zero Moment of Truth

,  coined by Google in 2011)

The brand

presents the product

to the consumer, either in-store or in the online world, while a user want to cover a relative need (defined as

Less than ZMOT

, defined by

Eventricity LTD

in 2014)

The consumer experiences the product's quality while the

product's first use

The brand gets

feedback from the consume

r

, either by asking directly or by reading a review of the product, written by the consumer
As mentioned in this post, by working on taking the most out of these moments of truth, you can achieve amazing impact on customer engagement and get profits instead of revenues.
For example, a gap in the customer experience your company provides can be found between the time a customer clicks on the buy button and when their order is delivered. During shipping time, the company loses control over the process, other than keeping the customer informed. However, there is nothing to control the customer's emotions during that time. Maybe the gap is only 2 to 4 days, according to your shipping policy. What can you do to reinforce that the customer made the right decision to buy your product and do business with you?
Here is the opportunity you were searching for! The next time you will be planning the content of your email campaign, or the next time that you will be sending an email to a loyal and happy customer, think it not as a communication instant, but as a moment between them and your brand and think of something to make it special!
Read more here on what are the steps that will transform  customer experience, by working on moments of truth!
Want to know more about the moments of truth with your customer?
Read the following articles:
---
Also published on Medium.