What Is Customer Satisfaction Score (CSAT) And Why You Need It?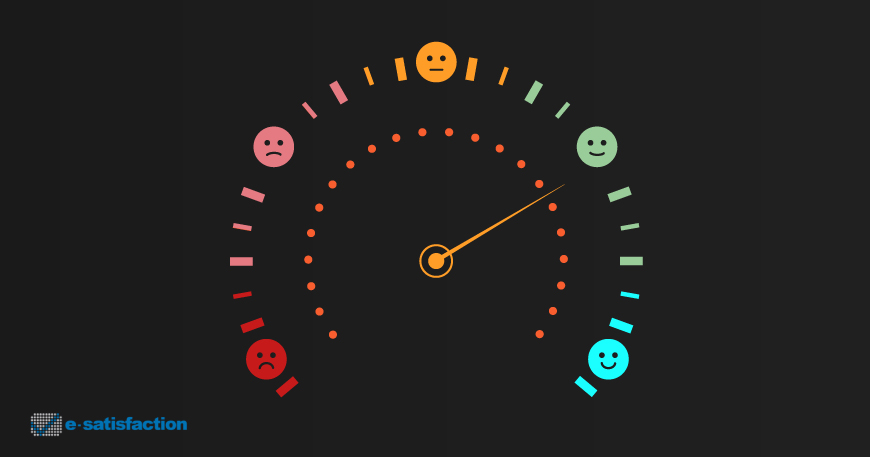 Customer Satisfaction: the holy grail for any brand/business that wants to offer high-quality products/services/experiences to its audience. If you've been doing some research on how to measure customer satisfaction, you have probably stumbled upon CSAT. Now it's time you get better acquainted with this metric and discover why it is widely used and trusted.
What is Customer Satisfaction Score (CSAT)?
Customer Satisfaction Score or CSAT is a popular metric that tracks how satisfied customers are with their experiences with a brand, product or service. It essentially quantifies your audience's satisfaction level.
The question usually used in CSAT surveys is a variation of the one seen below:

In this example, customers are asked to rate their overall experience with an e-shop, but the question at the heart of a CSAT survey can be rephrased to ask for the rating of a specific product/service or process (e.g. delivery method). Various rating scales can be used (1-5, 1-7, 1-10, symbol scale etc.) and CSAT surveys call also be employed during different points in a customer's journey.
How is CSAT calculated?
CSAT calculation follows this formula:
(Number of satisfied customers (4 and 5 / 6 and 7 or 9 and 10 -depending on the rating scale used) / Number of survey responses) x 100 = % of satisfied customers
A lot of discussions in the CX community have been centred around what constitutes a good CSAT score. While a CSTA score between 75% and 85% is certainly considered satisfactory, these percentages are empirical due to the fact that scores vary across industries. 
What makes CSAT an important and useful metric?
The premise of CSAT may seem simple, but it is that simplicity that makes it a powerful tool for collecting customer feedback, engaging your audience and enhancing loyalty. Apart from its straightforwardness, there are other reasons that justify its popularity:
It is a metric that separates satisfied from unsatisfied clients. Negative feedback may not be pleasant, it is nonetheless essential and valuable because it acts as a

diagnostic tool

for problems that need to be solved and offers room for improvement. By recognizing and listening to unsatisfied customers, you can fix problematic areas, like your churn rate, and even improve a bad NPS (Net Promoter Score).

At the same time, feedback from satisfied customers is a gateway towards

discovering your brand's strong suits

and highlight them to protect and boost retention.

CSAT is indicative of how "healthy" a brand/company is and

the information it provides helps prioritize the actions of each department

. When internally distributed, the insights produced via CSAT surveys can be used to improve customer satisfaction, produce ideas that will enhance engagement and attract new customers. Those insights can also serve as the basis for product updates guides, website tweaks and customer advocacy campaigns. 
——–
According to research by McKinsey "maximizing satisfaction across the customer journey has the potential to increase customer satisfaction by 20%, lift revenue by up to 15% and lower the cost of serving customers by as much as 20%."
If you want to enjoy similar results, you need to start asking your customers how satisfied they are as soon as possible. And an easy way to create, send and collect insights from CSAT surveys is e-satisfaction.com. Book a demo and see how customer feedback can be used to help you reach your business objectives and make your brand stronger than ever.