e-satisfaction's API is a transcaction dictionary which has been created to provide to our customers a secure API to: 
Enable e-commerce platforms and third party services to use the information collected from e-satisfaction, merging all needed data (i.e. sales data, customer profile).

Directly integrate e-satisfaction's metrics and feedback to the already existing flows, to ensure that the collection of feedback during the stages following a transaction will be done as close as possible to the completion of each transaction.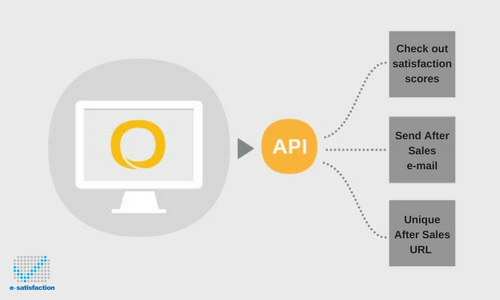 With e-satisfaction's API you may: 
Request

your customers' feedback during the Check out stage

, namely when completing an order, and merge them with their order details and other information that you keep in your system for each customer.

Send the After Sales questionnaire

according to the order status that your e-Business has set in the e-commerce platform, securing that your customers will have received their order before asking them to evaluate their After Delivery experience. This can be done in two different ways: 

by sending the After Sales e-mail branded from e-satifaction or,

by having the questionnaire's unique URL and sending the e-mail branded from your e-Business.
e-satisfaction's API is a really exciting feature that will help your e-Business have all needed information in one place providing an overview about your customers' transactions and level of satisfaction. 
Deep dive into your customers' feedback!