e-satisfaction.com faces the challenge of omnichannel experience
Omnichannel is about continuity of the experience you provide to your customers. Tracking and measuring this experience is a hard thing to do.  Multiple channels and multiple moments of truth that consumers experience when dealing with us makes it hard to implement and complex to manage.
Our mission in e-satisfaction.com is to make business customer centric, so we could not stand still and not work to provide a solution to consistently track customer experience across channels and more than that, make it a part of an interactive marketing engine that starts with customer feedback and reaches to personalized marketing, looking each experience of each customer at a time.
By using omnichannel characteristics of e-satisfaction.com businesses can constantly monitor in-store customer experience, based on feedback provided by customers, right after they completed their shopping experience, i.e. 10 minutes after leaving the store. With e-satisfaction.com for offline stores feedback is continuous (after every purchase), credible (collected only by customers, not visitors) and actionable (through triggering humanized marketing automations like refer a friend or review on Google places). This is the first time an authentic retail solution has the potential to provide ongoing customer feedback, combined with mechanisms of customer recovery and customer retention focusing always on customer's experience.
How it works
Once a customer has completed an offline transaction (i.e. buy at store, or phone order), an e-mail, SMS or Viber message is sent asking for feedback about this specific experience. Customer clicks a one-time link made just for this purchase and is led to an easy to fill, short questionnaire that is filled only with taps and clicks in less than 30''. Once the customer finishes and submits the questionnaire, automated algorithms are triggered to "understand" this feedback, and activates a personalized marketing automation, based on the sentiment of the response (i.e. If the customer is a referrer, he is asked to leave a review in Google Places). This way, the feedback loop is automatically closing, without you having to leave your office (at least not for happy customers), to take action on customer feedback!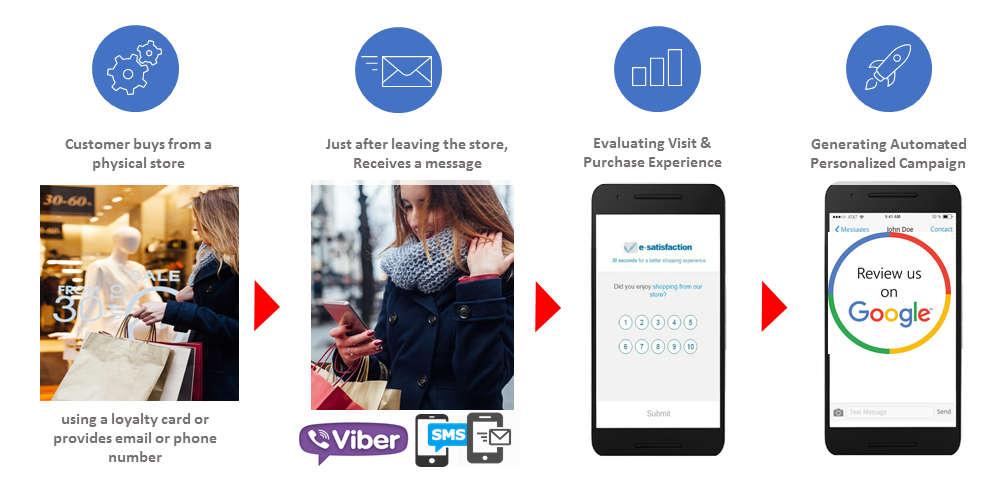 An omnichannel experience is by itself a Unique Selling Point for every Business as it has the following advantages:
Provide a personalized and consistent customer experience

Provide a more accessible, dynamic and continuous customer journey

Brands become available to their customers at anytime and anywhere

Consumers can easily decide in what degree the overall experience matched their expectations
Conclusion
While measuring an omnichannel customer experience many different data sources are brought together. Think of it like a jigsaw puzzle. You will have the opportunity to evaluate the customer experience your Business provides in every channel you interact with them in a consistent and complementary manner. Brands who can best interpret omnichannel data and understand all customers, are the winners in today's competitive market.
Omnichannel is not the future, it is now! Every business needs to ask themselves whether they will invest in fixing the past or in building a strong competitive advantage now and for the future having always as a reference the value of each customer.
Want to know more about the omnichannel experience?
Read the following interesting articles:
---
Also published on Medium.