ASKing with e-satisfaction is the easiest way to collect credible feedback from the customers and visitors of your e-business website. We all know that customers are really busy, but at the same time they do have a lot to say, so it is a real challenge to get their feedback without disrupting their experience in your e-business website. On the other side, once-off surveys that are often used to ask customers do not produce the desired results as customers refuse to respond because they are asked for an experience they had in the past, which is irrelevant for them.
The ask mechanism of e-satisfaction's Humanized Platform overcomes these obstacles by following the following rule of thumb: "Ask at a relevant moment, relevant things, in a friendly way". This rule has been implemented through the following, unique characteristics of e-satisfaction:
A complete set of out of the box user friendly mechanisms that collect credible feedback across the customer journey, across devices (mobile and desktop) and even across environment (physical and digital)

Out of the box questions, ready to be asked at each stage of the consumer's journey, ensuring that relevant questions are being asked at the correct moments
Let's get into more detail:
e-satisfaction's 360 degree ASKing mechanisms
Every time we buy online, we go through a customer journey, in the center of which there is a Zero Moment of Truth, which is the moment of transaction.  During this journey, customers are thinking specific things and operate under a specific consumer mission that they are serving. The main and most imprortant phases of this journey, when executed in the online world, are the ones shown in the following diagram: Browsing the website to see what to buy and get information, Buying the selected product or service by going through the Checkout process and completing the experience, when the products are Delivered or when the service that has been purchased has been provided.
e-satisfaction is the only solution in the market that collects feedback across the entire customer journey, as the out of the box ask mechanisms provided by e-satisfaction ask customers an all three stages, Browse, Checkout and After Sales. These mechanisms complement each other to generate a 360 degrees view of the customer's experience and are always on to always provide insight and continuous feedback from customers.
The common characteristic of all these mechanisms are that they are extremely friendly for users to respond and do not interrupt their experience in an e-business website, rather they enhance it!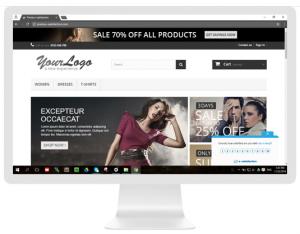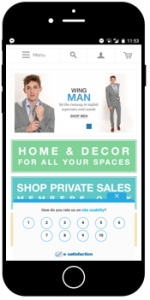 Browse Questions
When visitors enter the website and spend a significant amount of time browsing, a small, non disturbing, one-click-to-answer question is displayed, followed by an open text field where they can leave any comment they want. A really powerful mechanism that provides insights from visitors, that can also be configured to either be displayed on specific sections of the website, targeting specific customers that are at a specific stage of their journey.
Checkout Questionnaires
The best place to ask customers is the moment they become your customers. Checkout Questionnaires are displayed right at the moment customers finish the checkout process and are transfered to the thank you page. Friendly for users and strictly one-paged, Checkout Questionnaires include a set of questions that helps e-business get feedback from actual customers. Credible, real feedback from real customers!
After Sales Survey
It is hard to control and get in touch with customers after they leave the website. After Sales Survey is the collection mechanism that provides really useful insights from customers that have experienced everything the business can offer them and can provide complete feedback, when they complete this experience, not before that, not after that.
OmniChannel Surveys
As e-business is an omnichannel task, the customers who buy in the offline world should be able to provide their feedback too! Omnichannel Surveys is the mechanism used to collect feedback from these customers and is based on SMS messages or emails that are sent to customers when they visit a physical point.
Out of the box questions
Asking the correct thing is not an easy thing to do and sometimes what is the correct thing to ask is not clear. e-satisfaction overpasses this by providing a preloaded, fixed set of questions that are asked at every stage. These questions provide insights on all aspects that determine the experience of a visitor or a customer in the website of the e-business. The questions sets that are provided today cover the following industries:
e-retail

Online food delivery stage
Moreover, e-businesses can add custom questions at all stages to get drill down on feedback and also by clicking a button they can benchmark KPIs of all out of the box questions and compare their metrics to industry averages. Discover the Understand mechanisms to learn more about these capabilities.
Start today your free and unlimited 30-day trial and discover the power of your customers!